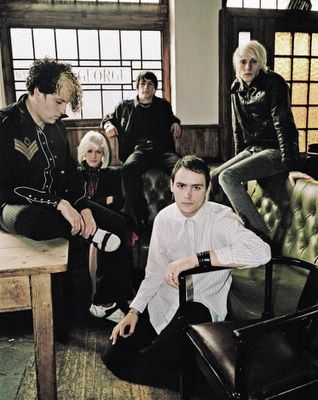 O Planeta Pop apresenta os

WHITE ROSE MOVEMENT

, banda Londrina formada pelo vocalista/guitarrista Finn Vine, o guitarrista Jasper Milton, o baixista Owen Dyke, a teclista Taxxi e o baterista Ed Harper.
Apesar de existirem desde 2002, o grupo só esta semana colocou à venda o seu single de estreia, intitulado "

LOVE IS A NUMBER

". O tema foi produzido por Paul Epworth, senhor conhecido pelo seu trabalho recente com os Bloc Party, The Futureheads e Maximo Park.
"Love Is A Number" é mais um daqueles temas que tresandam a anos 80 por tudo quanto é lado. Neste caso em particular, evocam-se os anos 80 dos Duran Duran, Depeche Mode, Classix Noveaux, Adam & The Ants e os inevitáveis Joy Division. Tudo coisinhas que o Astronauta muito aprecia.
Como curiosidade, resta apenas acrescentar que o nome da banda é inspirado num movimento anti-fascista, formado por cinco estudantes alemães durante os anos 30.
Para terem uma melhor ideia de como soam estes WHITE ROSE MOVEMENT (isto aplica-se a quem não os conhece, como é óbvio!), aqui ao lado encontra-se em exibição o video de "Love Is A Number", eleita desde já como uma das melhores canções nascidas em 2005.