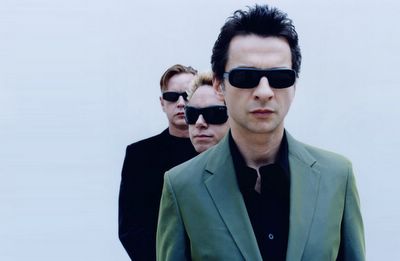 Caros amigos e visitantes, o Astronauta informa que foi actualizada a playlist do Radio.Blog deste Planeta Pop. E vejam bem as coisinhas boas que hoje temos para vocês:
- DEPECHE MODE: "PRECIOUS" - estreia nacional do single que antecipa "Playing The Angel", o novo álbum da banda de Dave Gahan. Como é do vosso conhecimento, o disco só chega ás lojas em Outubro. Digam lá, quem é amigo, quem é?
- EVERY MOVE A PICTURE: "SIGNS OF LIFE" - Esta já é conhecida por estes lados. Foi um dos pontos altos da última sessão Electro-Doméstica no Incógnito. Ando louco com isto!
- LCD SOUNDSYTEM: "TRIBULATIONS" (LINDSTROM REMIX) - fantástica remistura de Lindstrom para o meu tema preferido do álbum de estreia da banda de James Murphy.
- ELEPHONE: "CHUMP CHANGE" - Banda de San Francisco aqui apresentada num dos últimos posts. Se ainda não ouviram...do que é que estão à espera?
- WHITE ROSE MOVEMENT: "LOVE IS A NUMBER" (BLACKSTROBE REMIX) - Ando completamente apaixonado por estes tipos (...pela música, entenda-se!!). Ou muito me engano, ou vai sair daqui um dos álbuns do ano. Interessante a remistura dos Blackstrobe para o single de estreia desta banda inglesa.
AVISO À NAVEGAÇÃO: O Astronauta informa ainda que todos os temas presentes na playlist do Radio.Blog apenas estão disponíveis para escuta em "streaming". Aqui não se disponibilizam "downloads" de ficheiros áudios em mp3 ou em qualquer outro formato (...temos pena!).
No caso particular do tema dos Depeche Mode, este só foi inserido na Radio deste blog depois de o Astronauta ter constatado que este já se encontra espalhado por toda a Internet. Basta saber procurar. Garanto-vos que nem é preciso ir muito longe...